Review- Stone Cold Touch by JLA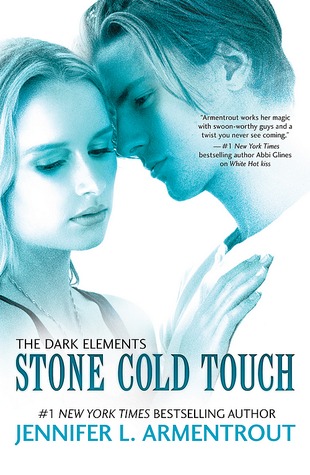 Title: Stone Cold Tough
(Dark Elements 2)
Author: Jennifer L Armentrout

Summary:
Every touch has its price

Layla Shaw is trying to pick up the pieces of her shattered life—no easy task for a seventeen-year-old who's pretty sure things can't get worse. Her impossibly gorgeous best friend, Zayne, is forever off-limits thanks to the mysterious powers of her soul-stealing kiss. The Warden clan that has always protected her is suddenly keeping dangerous secrets. And she can barely think about Roth, the wickedly hot demon prince who understood her in ways no one else could.

But sometimes rock bottom is only the beginning. Because suddenly Layla's powers begin to evolve, and she's offered a tantalizing taste of what has always been forbidden. Then, when she least expects it, Roth returns, bringing news that could change her world forever. She's finally getting what she always wanted, but with hell literally breaking loose and the body count adding up, the price may be higher than Layla is willing to pay…
I hate love triangles.
HATE THEM.
Hate that theyre in so many YA novels.
ugh.
BUT- C'mon. This is JLA we're talking about. You know its going to be done right!

SO- I, along with every other breathing female out there, was devastated at the end of WHK. Because, why did Roth have to go!?!
So… without giving away spoilers, this is my assessment.
-

Obviously its awesome, because JLA wrote it. And Its just as good as all her other wickedly beautiful books.
-

Yes, Roth is back, BUT for 75% of the book, he is NOT the main guy in her life.
-

At the end of WHK- I honestly didn't really care about Zayne that much at all… Thought he would always make a good best friend to her, and should end up with Danika… BUT- this book showed us Zayne in a whole new light!!!
-

I still hate love triangles, especially when theyre done well, because then no matter what, someone who deserves her, wont get her. And youre heart will be a little broken.
-

Layla learns stuff about herself, and is more independant. I like it. Stacy and Sam are like the constant awesomeness she needs. In fact, all the side characters (Cayman, Maddox, Abbot, etc- all of them feel so real, even though they are only sideline peeps)
-

The ending… I had KIND of suspected something LIKE that was gonna happen, (due to the million and 3 clues throughout the book) BUT I didn't expect that!

L

and its sad. So prepare yourself.
-

The last 25% of the book… maybe the last 15% Was pretty Fing epic. Like, holy crap on a cracker epic. Like- probably the best ever.
-

I still love Roth more. Even though Zayne has so much more history and basis for a strong relationship with Layla, Roth gives so much of himself, its really kind of beautiful.
-

Also- I love that the bad guys aren't always really bad… and the good guys aren't really always good. Because really life is not black and white!
-

PS- I hate having to wait so long for her next book!!!And when it comes out, Ill be all like...
So there you have it.
Go buy it. Read it. Love it. And then wait an agonizing amount of time for her next one, with all the rest of us
5 Stars. Obviously